We have been busy making signs and getting to know our new Big Bertha machine. Life has definitely gotten a little less stressful, than the first three weeks of me designing in the new software program.
Gary has been busy running the machine, getting organized and getting prepped for hellaciously rapid Christmas sales. This is a batch of silver eyes waiting to go into the booth for black powder coating. This is only about 1/6th of the amount we will complete between now and Dec 1st.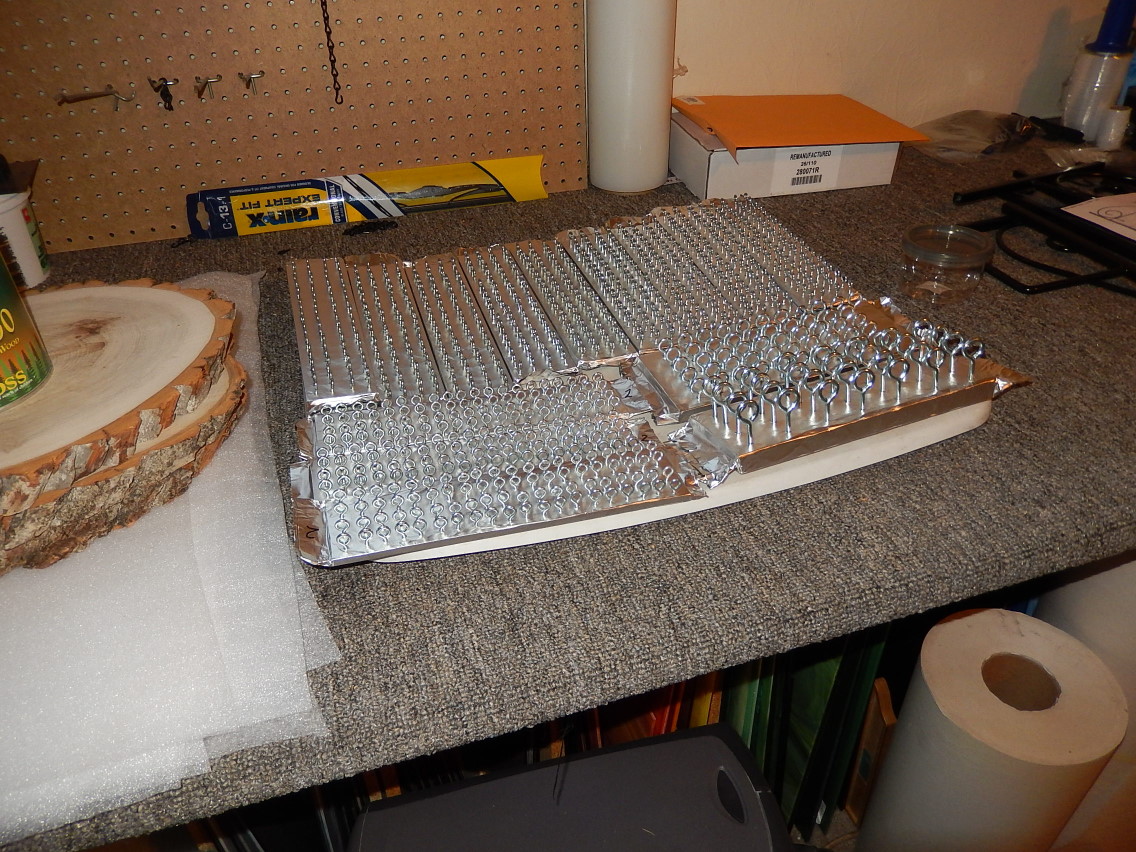 He and I both have been furiously trying to clean, sand, and coat the rest of our wood slabs that were purchased a year ago July and never really finished until now. The push is on! Gotta be ready for Christmas!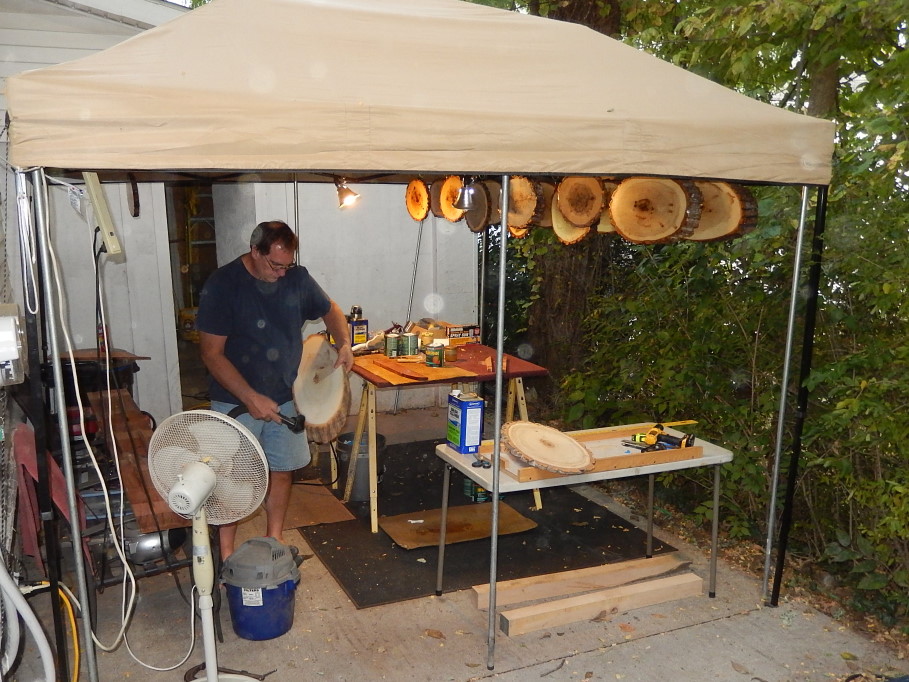 And yes that's a Walmart Canopy frame in our upstairs bedroom, it just fit beneath the ceiling and holds the drying slabs wonderfully! (My idea, I might add!)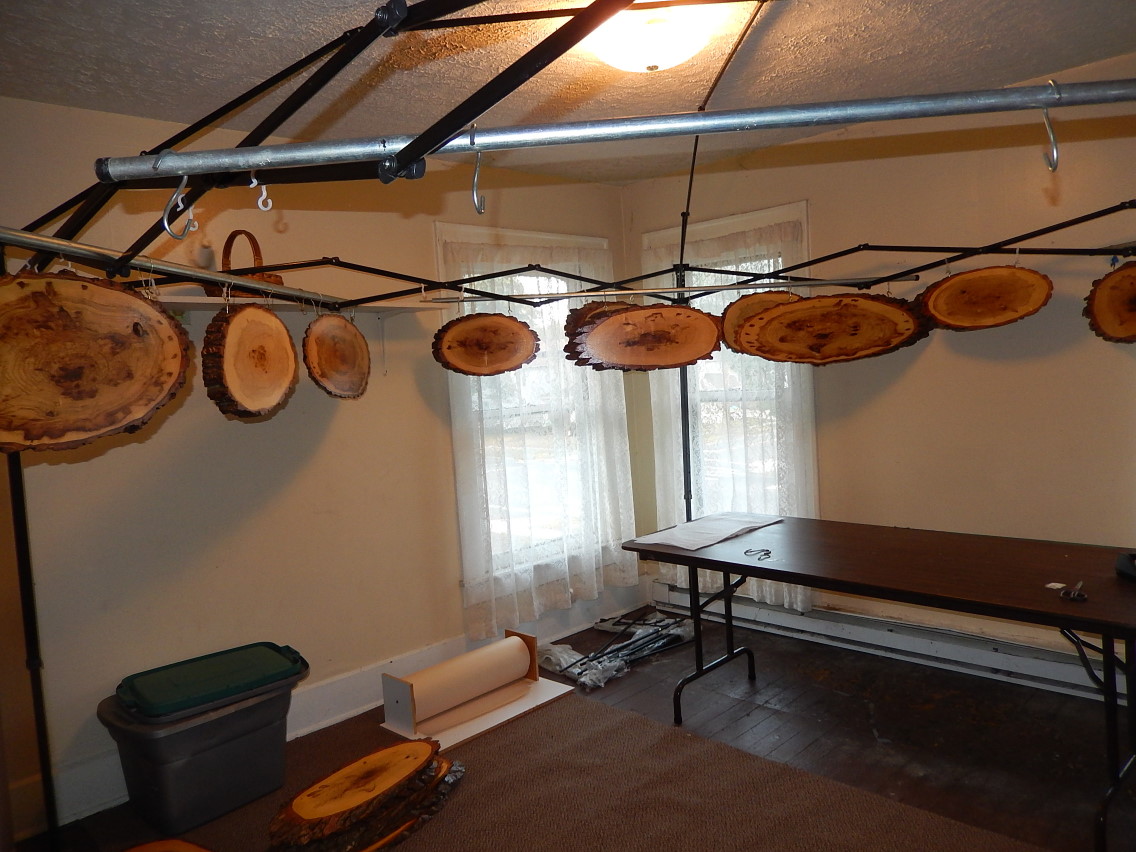 And finally the organizing. He's got the space under the machine filled with our set up jigs, so he can easily switch out the projects he's running. Above the storage bins on the left, is his organization pegboard with all our tiny USB drives that hold the actual G-code for the machine and our work orders.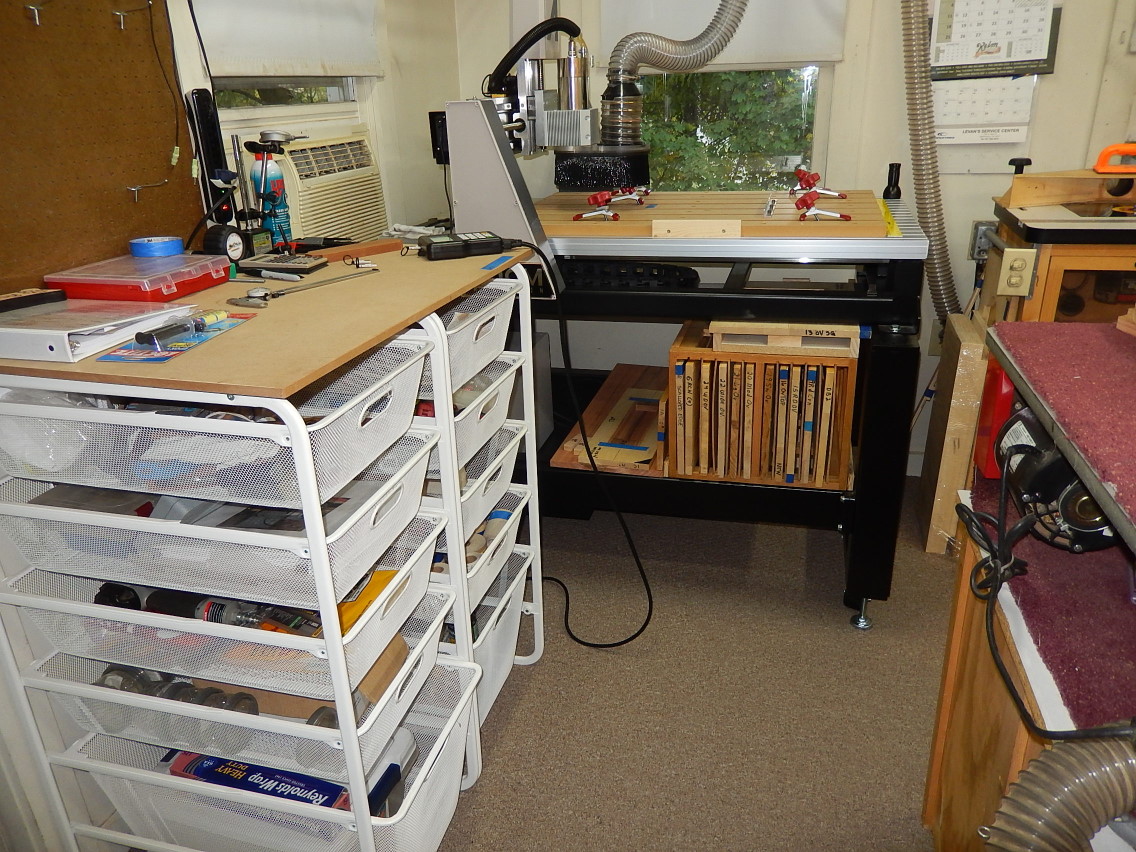 My job in the slab prep was the dreaded centering and drilling the holes for the hooks so they can hang while they dry. Gary's worst job! And I actually didn't mind it so much (maybe it's just newbie enthusiasm) except for all the math involved. No I didn't have to use a calculator but I did have to measure and divide, as well as make square lines and line up my drill properly. I felt a little bit like Tim the Tool Man!
On another note, I've been having pain in my 2nd toe on my left foot. It mostly aches and causes problems with certain types of shoes I'd like to wear (no tie shoes for at least 2 years now.) But this past month I've had shooting pains on the top of my foot into my 2nd toe. So much so, it feels like a lightning bolt! I thought it might be related to my ankle that was broken 12 years ago, so today I had an appointment with the ortho and he immediately suspected a stress fracture, but upon looking at the x-rays ruled that out. I thought it was a little weird to go that direction since I hadn't injured the foot at all, and it's lasted so long. His next idea was inflammation and he injected a cortizone shot into the area just below the knuckle at the bottom of the toe. Talk about a lightning bolt! 4x worse than the pain I normally feel shooting that direction but not enough to bring tears. I sure hope he's right and the next few days bring relief, because I can't even imagine boxing and shipping 30 signs a day on a bum foot. His time frame for this to last is going to take us right up to our busy time, and I sure don't have enough time to eat, sleep, and shower then, let alone let someone mess with my foot! I guess I just have to find my priorities. It's all worthwhile when we escape the cold weather and move on to warmer temps when it's all overwith.